This article outlines the importance of Google reviews and ways to get more of them for your business.
(Courtesy: https://thrivehive.com/get-more-google-reviews/ )
Getting Business Reviews on GOOGLE is Key
It's no wonder the internet is now the first point of contact between consumers and companies. At a moment's notice, they can get a list of relevant, nearby businesses simply by typing a word or phrase into Google. That's convenience at its finest.
The fact is that people trust what other consumers have to say. In fact, many people feel that reviews posted by strangers are just as reliable as personal recommendations. Use that to your advantage! Make it a habit to ask your customers to review your business. As long as you make it as easy as possible to do, you are likely to get more Google business reviews showing up on your listing.
When such a search is performed in Google, the results page has three components: paid results, local/maps results, and then organic results. Any of the local/maps listings you see are those of businesses that have a Google My Business listing. It is through this listing that businesses can present their contact information, increase their exposure, and accumulate reviews from customers. Read on to learn about the importance of Google business reviews as well as how to get more of them to further increase the credibility and appeal of your business.

The Benefits of More Google Business Reviews
It's a quick and simple process, but the benefits are ongoing. The more people you can get to leave a Google review for your business, the more you'll be able to accomplish in the way of business objectives. If you're not yet placing emphasis on Google business Reviews, now's the time to change that!
• More Reviews, More Leads
Did you know that 88% of consumers trust online reviews as much as personal recommendations? Building up your reviews builds up the likelihood that a Google searcher will engage with your business upon finding it.
• More Positive Reviews, More Purchases
We research and read reviews before making purchase decisions. This has become part of consumer behaviour that cannot be ignored. The more Google customer reviews you have, the more likely a purchase is to be made.
• Higher Reviews, Higher Rank
Google rewards businesses that have frequent and positive reviews. They are a critical component of Google's ranking algorithm, which means that more great reviews can help you move up in local search results.
• More Reviews, No Costs
There are no fees to leave reviews or to respond to them. Positive endorsements for your business on Google serve as free advertising for your business on the world's most trusted platform.
---
Step 1: Create a Google Account
(If you have a Gmail account etc, you can use this)
https://accounts.google.com/signup?hl=en
Step 2: Add My Business to Google Maps
https://www.business2community.com/social-business/add-business-google-maps-01094521
and optimize your listing:
---
11 Ways to Generate More Business Reviews on Google
1. Append a 'Review Us' option to your 'Bon Voyage' or 'Welcome Back' emails
On your email, recommend you add an image along the lines of:
Have we helped you? Help others to find us by leaving a Google/Facebook Review!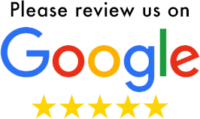 This will then link through to webpage widget created by us and hosted on your website.
a. When they select 4-5 stars, it will link directly to Google Reviews
b. If you select between 1 to 3 stars, it diverts to an email that sends to you.
(How to respond to a not-so-good review)
2. Create "Leave us a Review" Cards
Have physical cards made up with a shortened version of your Google review link. Something like this could work:
Review Us on Google!
Your Google review helps others who need our services to find our business.
Plus, your feedback equips us to continue serving you best.
Take a minute to rate and review us at [shortened link]. Thank you!
3. Ask in Person for Google Reviews
Having a good conversation with a customer in your store? Just finished a solid support call in which the customer felt eternally grateful? In your interactions with clients, there are many opportunities to ask for Google reviews.
"I'm so glad to hear how happy you are with our business. Hey, if you wanted to leave that in a Google review, you'd help a lot more people like yourself to find us."
"This feedback is super helpful. You know what would be awesome is if you shared that feedback online for other customers to see."
"I'm so happy we could help you. If you wouldn't mind sharing a sentence or two in a Google review, that would help us a ton."
And then you have that compact little card that gives them instructions to leave a review and thanks them in advance for helping your business to help more people.
4. Emphasize to Customers How Easy it is
One method that could help garner more Google business reviews is to emphasize customers how easy it is to leave one. Remember that:
They can just leave a star rating without writing anything.
If they do write, the review can be one or two sentences.
Using terminology like "leave a review" or "drop a quick review" instead of "write a review" might feel less cumbersome to customers and result in an increase in reviews.
5. Create a Google Business Review Email Campaign
Whether via individual, personalized emails or a larger blanket campaign, this is another effective way to get more Google business reviews. Just be clear in your ask—don't try to sugar coat it, beat around the bush, or coerce them into doing it without realizing.
There's nothing wrong with asking your customers to do something that will help other future customers. Plus, if you have happy customers, you'd be surprised at how willing they'll be to write a review. As long as the process is clear and you make it fast and easy to do, you're likely to get some reviews out of your email campaign.
6. Add the Google Review Link to Your Website
For relevant pages of your website, use a button or anchor text to link to your Google business review form. This might be on your contact page, thank you pages, or purchase confirmation pages.
7. Include Google Review Links in Surveys
Asking your customers for their feedback lets them know that you value what they have to say and have their best interests in mind. If you've gotten someone to fill out a poll or survey, they're already in the proper mindset. See if you can take advantage of their momentum by asking them to review your business on Google while they're at it.
8. Get Google Business Reviews from Vendors and Partners
Vendors and partners may not be customers, but they can attest to what it's like to work with you on a regular basis. They also might be more willing to leave a Google business review if you write one for their business first.
9. Respond to Google Business Reviews
When you respond to your customers' Google reviews, you are letting new potential reviewers know that you listen to customer feedback and that it's worth their time to write their own review.
There are two ways in which responding to reviews can get you more reviews.
Positive reviews:

Being specific, timely, and grateful in your responses to positive reviews will beget more positive reviews.

Negative reviews: Responding promptly and politely to negative reviews and actually resolving the issue can oftentimes result in the conversion of a negative review into a positive one.
10. Put a Google Business Review Request in Your Email Signature
Adding a link to review your business on Google in your email signature is a great way to ask for more Google reviews without actually asking! Something like:
Have we helped you? Help others to find us by leaving a Google Review!
Happy with [Business Name]? Leave a review here.
This can be particularly effective if you communicate on a daily bases with clients via email.
11. Follow Google Business Review Guidelines
Please note that you must follow Google's guidelines when soliciting reviews. This means you should not offer any rewards and should ask your customers equally – whether they seem to have had a positive or negative experience.
Other Examples of Asking for Google Business Reviews
Here are some more phrases you can incorporate into your content to get more Google customer reviews:
Reviews on Google help us to help more people like you. When you have a minute, please share your feedback about our business!
Got a minute to review us on Google? We'd love to get your feedback.
Thank you for choosing our business! Let us know how we're doing by dropping us a quick Google review!
We appreciate your input! Help us continue providing the best service by posting a review on Google.
Leave us a quick review on Google! This helps people who need our help to find us.
---
Once the reviews are created you can use our plugin below to add them to your website:
eg: https://www.knoxtravel.com.au/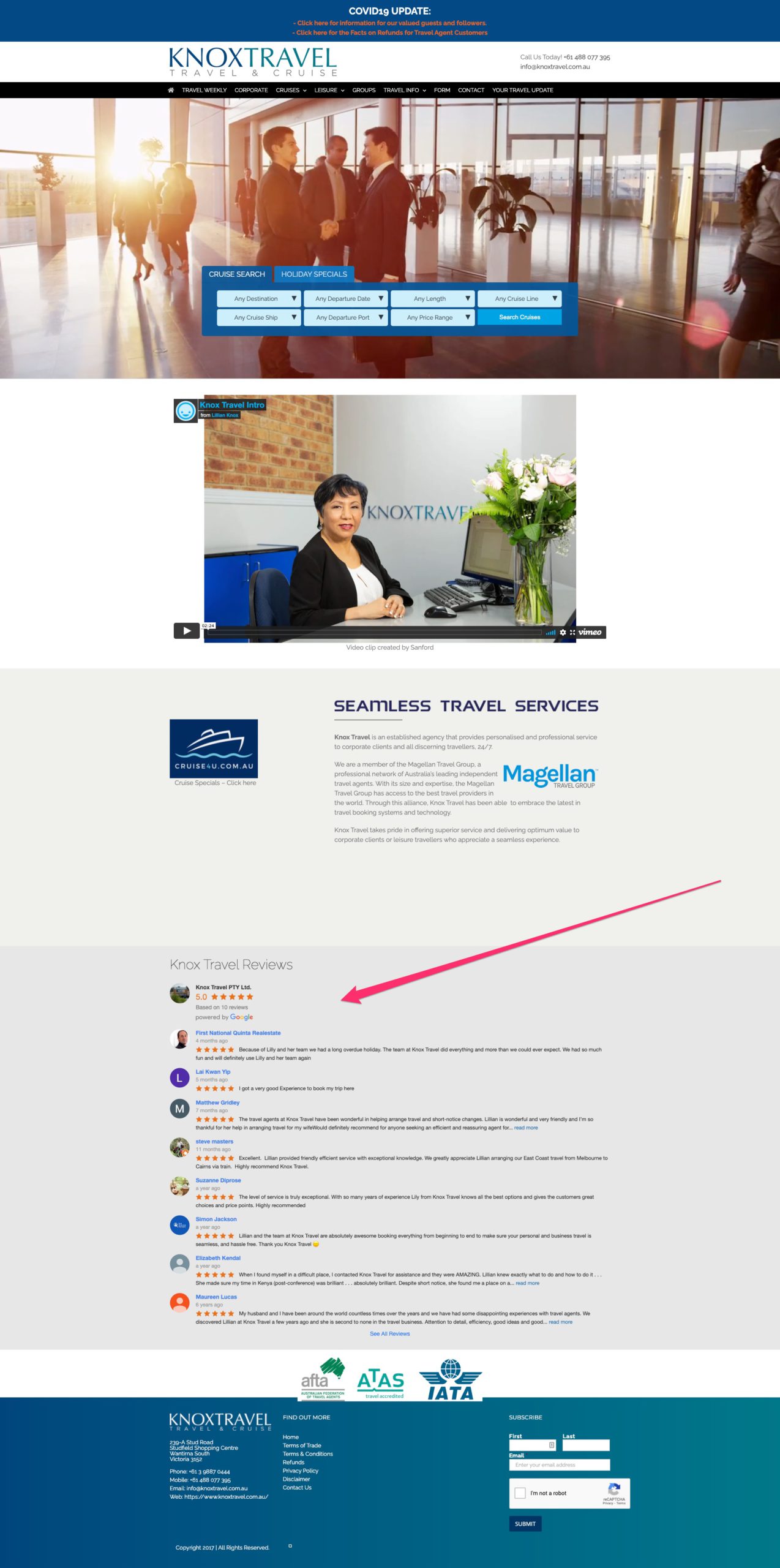 You can also add Business Reviews to FACEBOOK: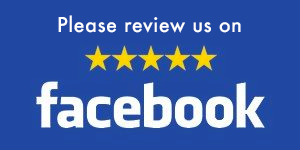 Example of Facebook review:
https://www.facebook.com/oasistravelnetwork/reviews/?ref=page_internal
Recommendations can also be drawn into your website.